Looking to put your character into something stylish for the winter holidays? Look no further! Winter Character Cards are now available in the premium shop! By rebirthing or creating a new character with these cards, you will enter Erinn in a comfy and chic outfit that was made just for the holidays! Not only will these outfits keep you warm during cold nights, each race has a specially crafted costume!
The human male and female outfits are similar in that they both have a nice overcoat adorned with a fluffy collar line. The tunic beneath the midriff jacket keeps the wearer warm to compensate for the shorter overcoat length. Women will find a cute skirt and stalking combination to complete their outfit while men will get a pair of trousers that end at the knee. Fur-lined boot covers cover the rest of the leg. Elven players may wear the human ensemble and vice-versa.


Although it doesn't get too chilly in Connous (at least during the daytime!), Elves have plenty of reason to celebrate the holidays. Each elf outfit is sleeveless, with a row of buttons fastening the clothing down the left side of the torso. Both sexes of the elf race find fashionable use of scarves in their wardrobes, and this goes without exception in the Winter Character Cards; a scarf is draped loosely over the shoulders. Similar to the human versions of the Winter Character Card, female elves have a skirt, but also a pair of furry boot liners. Male elves have a pair of trousers as well as the boot liners. Human players may wear the elf ensemble and vice-versa.


Giants, most familiar with cold weather have developed a nice set of thermal clothing that keeps them warm during the holidays. Needing little use of layers, giants take the time to embroider their outfits with designs on the right breast. Fur is stitched into X patterns around the male giant's tunic while the X pattern is found at the bottom hem of the skirt on the female version. The giants also make use of the furry boot liners, tying them secure with leather straps.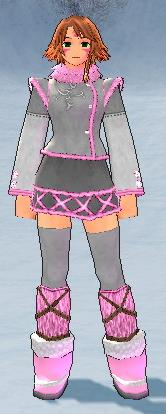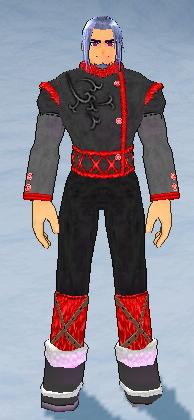 The holidays are here! Dress appropriately and get yourself a Winter Character Card today! They're available from December 8th to December 28th!