Charge your way into battle with the powerful new Lance weapon! Not only will this weapon look menacing to your opponents, it comes with brand new abilities!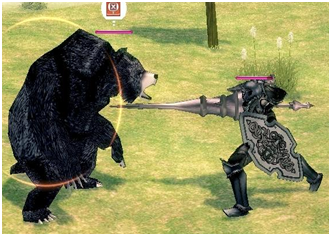 Lance Mastery
- Attack enemies from a distance, with a longer range than all other melee weapons!
- Equip your Lance by learning Lance Mastery.
- Train in Lance Mastery to increase your damage and gain the ability to perform an additional trick!
- Use your Lance to increase your melee Damage and Critical Hit change!
Lance Counter
- Activate faster! Lance Counter activates much faster than normal Counterattack.
- Anticipate your opponent's next move. The position for Lance Counter is not maintained as long, so one must know exactly when the next attack is coming to utilize the ability.
- This ability is essential for blocking skills that require close combat.
- The attack power of Lance Counter is directly proportional to the enemy's attack.
- Lance Counter is a must-have when fighting powerful monsters!
Lance Charge
- Catch your enemies in the path of the Lance Charge to render them defenseless!
- To use, put the Lance forward horizontally and fiercely dash toward the enemy.
- Use Lance Charge while mounted on a Pet for an additional advantage.
- While charging toward the target, all the enemies in-between are pushed away.
- Lance Charge cannot be used on a nearby enemy, but you will be able to experience the thrill of attacking and pushing away enemies at the same time.
New Skill Rank
-Upon the arrival of Romeo and Juliet, new Skill Ranks will become available for the following skills:
Charge
Ice Shield
Fire Shield
Lightning Shield
Natural Shield
Handicraft
Tame Wild Animal
Sand Burst
Wind Blast
Synthesis
Fragmentation
First Aid
Composing
Musical Knowledge
Want to see the Lance in action? Check out the teaser video!