The Quiz Show event has begun, and many players have commented that there isn't a lot to do while waiting for the start of the next quiz. Well, we might have the answer for you: Shadow Mission BINGO!
Shadow Mission Bingo? Exactly! Starting MONDAY, March 21st, you will receive a quest to speak with Padan near the Stonehenge Temporary Headquarters in Tara. Padan will ask you to clear a daily Shadow Mission throughout the week (Monday through Friday).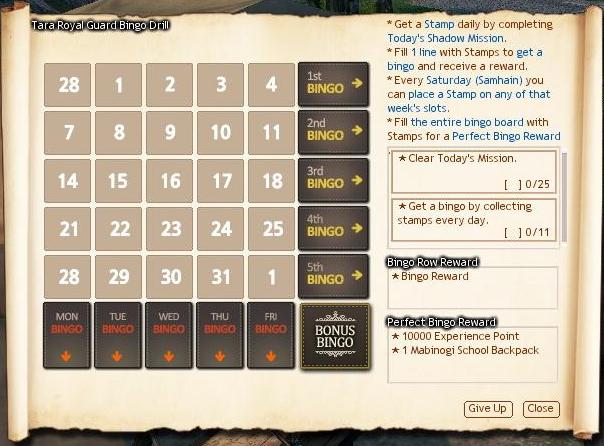 Completing a daily Shadow Mission will earn you a mark for that day. The goal is to make a BINGO for that week. So, essentially, you will need to complete a daily Shadow Mission Monday through Friday in order to receive a prize.
Monday (B)
Tuesday (I)
Wednesday (N)
Thursday (G)
Friday (O)
Saturday (Bonus)
3/21
3/22
3/23
3/24
3/25
3/26
3/28
3/29
3/30
3/31
4/1
4/2
4/4
4/5
4/6
4/7
4/8
4/9
4/11
4/12
4/13
4/14
4/15
4/16
4/18
4/19
4/20
4/21
4/22
4/23
Can't make it on one of those days? Don't worry! If you miss a day, you can complete a Shadow Mission on Saturday. This will allow you to place a completion sticker on any one of the days you may have missed. Can't make it a specific day? Also, no fear! You can make a BINGO vertically as well. Please note that diagonal BINGOs are not counted. When you make a BINGO, you have a chance to win fun prizes including:
Mabinogi School Uniform (M)
Mabinogi School Uniform (F)
Mabinogi School Shoes
Wood-rimmed Glasses
Plastic Frame Glasses
Thin Rimmed Glasses
Folding Glasses
Blue Upgrade Stone
Red Upgrade Sone
Various sized gems between 2 and 10 cm
Surely, there must be a prize for completing a full BINGO board, right? That's correct! If you manage to fill out the entire BINGO board, you will receive a Mabinogi School Bag!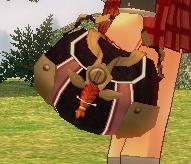 The Mabinogi BINGO event is FIVE weeks long! March 21st to April 23rd.