Long time no see! Some of you guys probably remember me from the Sheep guild (which is sadly gone) but anyway I was looking for a guild for like almost a month now. When I saw the post on Mabiguru about this guild I couldn't resist joining. Since school started I've always been busy but now that I am more than half through this year, I have more time to myself to play Mabinogi, video games, and watch animes.
Sadly I am a weak warrior, just can't get better for some reason but I am trying hard to become a bigger and stronger warrior, it'll just be hard for myself. I learning new strategies for melee fighters and I am TRYING to rank up my WM which is on r9 right now. I'm currently at the end of G1 and I need to get my current lvl to 25(just rebirthed) and for some reason, I'm having a hard time. I get way too bored running Ciar Beginner over and over again and since I haven't been playing mabi in a long time, I really suck at combat (I was kind of bad before but at least way better than now). So right now my goals are to get WM ranked up and finish G1 this Saturday.
Also my total lvl is 84 (Failure...) and my CP is 354. If you want to see my skills and stats I can upload some pics.
And another one of my problems would be that I have been friendless since Sheep guild has ended. SO I am in really bad need of friends. It just feels so quiet ride down Dugle Aisle with no one to talk to.
Well it feels great to see that some old friends are in this guild. And I hope I great to fight with you guys again (When I say fight I mean like going through dungeon, not arguments, just wanted to make that clear XD).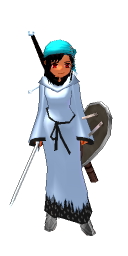 Thanks,
Aerodith (This is also my IGN)